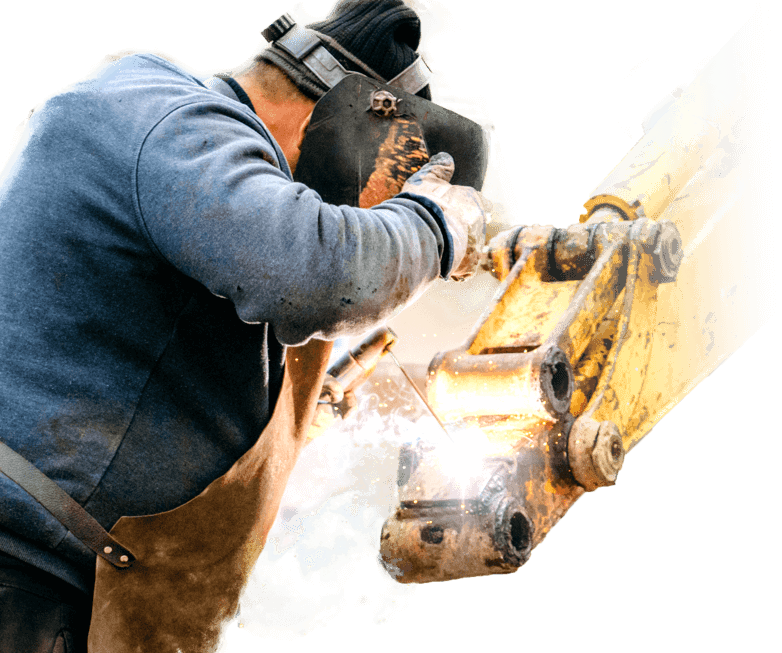 We get it. You work hard and so does your equipment.
Downtime is expensive and your time is limited - that's where we come in. We don't believe in short term solutions, instead we partner with you to weld stronger so your equipment can last longer.
Who We Are
Keep Your Equipment Running
Whether it's persistent cracking, lack of surface preparation, high abrasion or even dissimilar metals, Rockmount has a solution. We have alloys for every base metal, and whether you prefer rod, wire, TIG or brazing, we've got you covered. Our high quality abrasives and metalworking consumables will also support you along the way to make longer lasting repairs in the fastest possible manner.
Our Products
Weld any Steel
Brutus can weld dissimilar steels and can even be used to pull broken bolts stuck deep in a housing.
Tough on Cracks
Polaris products make strong, ductile, crack resistant welds. Ideal for heavy equipment.
Weld on Rust, Dirt and Oil
Tartan alloys produce high strength welds in tough-to-reach areas where surface prep is a challenge.
Longest Lasting Hardface
With Zeta hardfacing alloys you will use half the product and get twice the wear.
Protect Yourself with Optrel Helmets and PAPR Respiratory Protection
Welders operate in the toughest of environments. Protect your lungs and your career by investing in the highest quality equipment. Rockmount is the national demonstration partner of Optrel. Contact Us to Book a Demo or Learn more.
Shop Optrel
We are a small fab shop that welds many materials & processes, and we rely on high-quality products and services to do the job right the first time. Rockmount provides that quality and service.
- Larry Holmes, Maintenance Welder, Fabricator, Small Business Owner, and Jeep Enthusiast (@jeepingmo)
With Rockmount rods and wires, I get the job done right the first time, every time.
- Jason Becker - Welding Instructor and Host of the Arc Junkies Podcast (@metaltrendz)
Whether I'm repairing ski lift chairs, heavy equipment or building hand rails, all I trust is Rockmount filler metals. It gets the job done right the first time and I know it will last.
- Weston Spencer, Maintenance Welder, Fabricator, and Inventor of the Picket Master Pro spacer tool (@slcsaltcitysteel)
Fix it Once & Fix it Right
Our team knows what it's like to fix something the right way, and we also know when something isn't fixed correctly it's not really fixed at all. Our complete assortment of welding alloys are specifically designed for maintenance applications, and our network of sales reps are technically trained to find you the right product for your needs. Using Rockmount you will make the highest quality repairs - saving you time, money and aggravation.
Our Value
Case Studies
Made For Maintenance
Easy out of position welding on contaminated metals in the toughest of environments.
A Product for every Job
The right alloys for every base metal and every welding process.
We Know Welding
Our Sales Reps are technically trained to bring more to your shop than just products.
Save Time & Money
Reduce downtime and labor by making faster, stronger repairs that last longer.